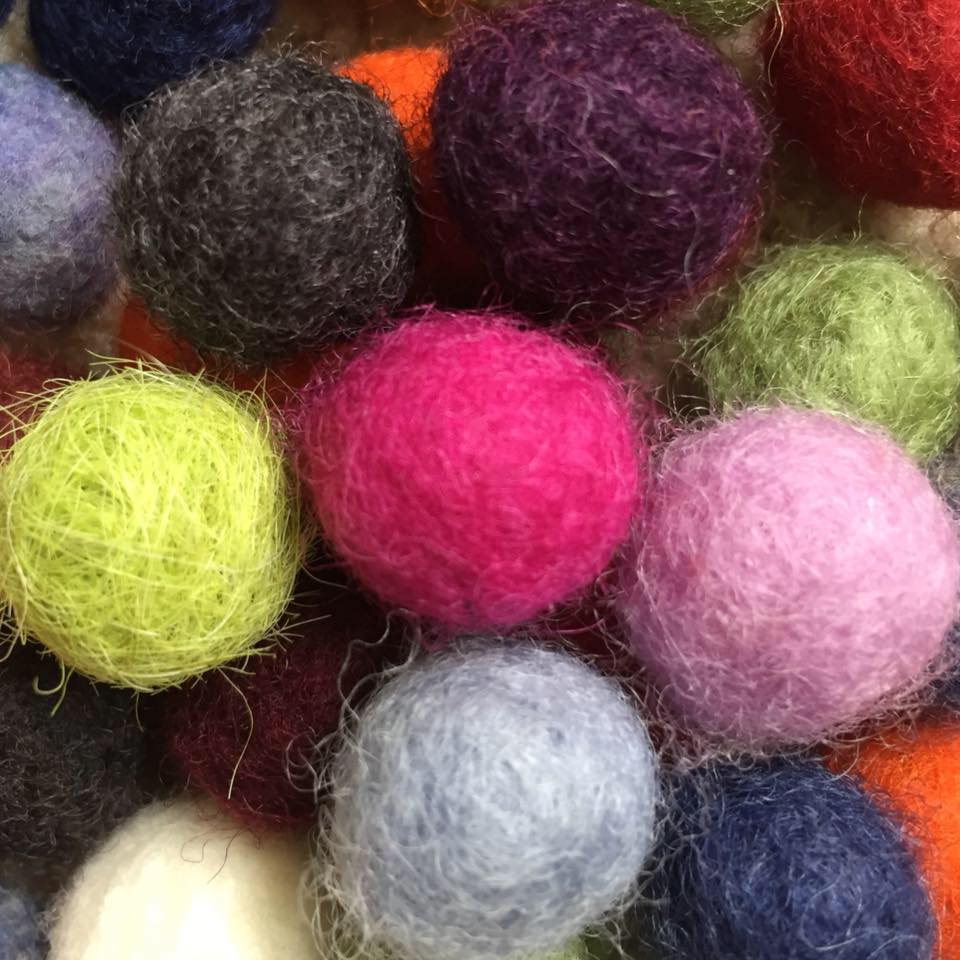 About Us
Get ready to hear: "Where did you FIND that??" when you wear your WOWZA! creations. Each of our unique pieces is sure to be a conversation starter.
Discover stunning single- or multi- strand necklaces, bracelets and earrings made from crocheted silver wire, adorned with beads of felt, glass and wood. Solid colours and vibrant combinations abound.These handmade gems range from traditional designs to the completely unexpected.
If textiles are more your thing, you can explore our imaginative knit and felted items like socks, scarves and wrist warmers. Even clever pieces to help keep your own knitting in order are available.

Choose from our many featured items, or commission a special creation that is exactly your style.
My Story
Meet me, the fibre fanatic and felting enthusiast! I'm passionate about everything related to fibre, from the feel of wool between my fingers to the endless possibilities of creating beautiful and functional pieces through felting.
Mostly self taught, I've honed my skills and developed an understanding of the nuances of different fibres, their textures, and how to manipulate them to create unique and stunning pieces of art.
Whether it's an individually designed necklace, or a one-of-a-kind pair of earrings, I pour my heart and soul into every project I undertake. From selecting the perfect materials to experimenting and pushing the boundaries of what's possible with fibre, I'm always striving to create something truly special. WOWZA!'s signature piece is a single- or multistrand necklace showing crocheted wire adorned with a combination of beads from various materials, simply closing with a magnetic clasp. Solid colours or vibrant combinations will sure be a conversation starter.
For me, it's not just about the finished product. The process of working with fibre is truly meditative and therapeutic, and I find immense joy in every step of the journey, from selecting the materials to carefully putting them into something beautiful.
During the pandemic my curiosity led me to explore more materials and I added sewing, upcycling and working with birch bark to my portfolio.
You can now browse Singers' Masks (black but also fun colours and patterned fabrics), little wallets from upcycled chocolate bar wraps and Birch Lights.
Look around, get inspired and let's create something truly magical together!
Brighten your day with these items with some of these items
Birch Tealight holders
The base is cork, reinforced with red, dark grey/black or white epoxy. For some I added leaf gold to give it a nice sparkle. Put a candle in and enjoy the beautiful light.
Singer Masks
This is a washable adult sized specialty mask inspired by Joan Fearnley's DIY Mask For Singers Version 3. It supports a close fit around the edges of the mask, while providing space inside for full mouth opening.
Upcycling Fun
I am always looking for ways to reduce, reuse and repurpose. Stumble upon a variety of items such as these handy calorie free treat bags.
Felt Jewellery
Explore a variety of items including our signature piece - the Multi Strand Necklace. Discover a colourful world for all ages.
WOWZA! is a world full of fun designs that will splash your day with colour and put a smile on your face.